About Life Expressions Family Chiropractic
We Create Healthy Families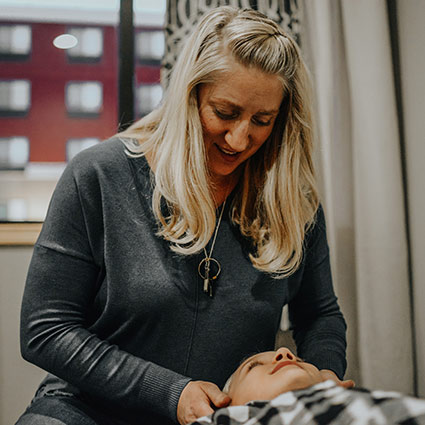 Our mission is to help families live their best life by getting and staying well through all of life's stages. Through specific evaluation using the most accurate technology available, we are able to identify interference to your families health early and provide the necessary and individualized care needed to keep you and your family living your best life.
Dr. Mandy Dietz has provided a state-of-the-art chiropractic facility for her patients since 2012, with specialized training in pediatrics, pregnancy, family wellness and scoliosis. She has been taking special care of moms, moms-to-be, newborns, infants and children of every age. All family members are important to us and deserve to live life with the advantage of chiropractic. We've created a warm and comfortable environment for families to relax in.
MEET DR. MANDY »

Our Practice Specialty: The Unique Needs of Children
Families see benefits from chiropractic care at all times, but we often find that their children see the most drastic changes when they're struggling with:
Sinus problems and headaches
ADD/ADHD
Autism Spectrum Disorders
Ear infections
Constipation
Bed-wetting
Nursing problems
Colic
Sleeping difficulties
Children Respond to Consistency
One of our favorite practice success stories is about a set of four-year-old twins. Both of them were diagnosed as autistic and were struggling with communication and everyday tasks. Their parents decided to combine pediatric chiropractic with other therapies in their treatment plan. After a period of time, they were doing noticeably better during therapy sessions, having fewer emotional outbursts and shortly after starting chiropractic care they were able to communicate, "I love you" without any prompting. Two years later, the twins still come to the office to get their adjustments and never neglect to say, "Thank you, Dr. Mandy!" when they leave. Through consistent chiropractic checks, Dr. Mandy is able to minimize interference of their nervous system so they can continue to function at the highest level possible, making their other therapies more effective. It's exciting to see the difference that chiropractic can make in a child's life and how it positively affects the whole family.
Book an Appointment
We urge you to bring your whole family in to see if they too could benefit from chiropractic! Contact us today for a no-obligation appointment!
---
About Life Expressions Family Chiropractic | (701) 223-8413