Advanced Scoliosis Care in Bismarck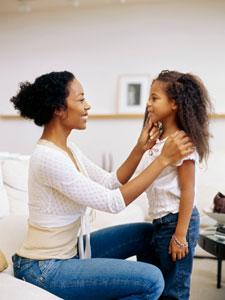 Scoliosis is a sideways curvature of the spine that occurs most commonly before puberty. The cause of Adolescent Idiopathic Scoliosis is unknown. Some scoliosis cases in children are mild, but they do have the potential to progress rapidly as children grow.  It's important to have your child evaluated by a qualified health care provider early to detect and prevent scoliosis progression as they age.  Often times, full spine x-rays are necessary for proper evaluation.  Severe scoliosis can be disabling and often leads to invasive surgeries if left untreated. Other types of scoliosis can be caused by spinal deformities at birth or injury at any point in life.  These types of scoliosis require very specific evaluation. Life Expressions Family Chiropractic is the only clinic in a five-state area that provides advanced bracing using ScoliBrace™ and a clinical approach that gives patients the tools to make positive changes both at home and in the clinic.
Chiropractic adjusting alone typically does not offset moderate to severe scoliosis in a way that effectively prevents progression.  However, combining specific chiropractic adjusting techniques with the most advanced corrective techniques of ScoliBrace and Chiropractic Bio-Physics, significant correction is attainable.
Chiropractic BioPhysics® (CBP)
When Dr. Mandy's young daughter was diagnosed with a congenital deformity in her spine, she went on a relentless search to learn everything possible about scoliosis treatment. Such treatments included traditional and alternative approaches to correction that don't require surgery. Dr. Mandy's mission has led to cutting-edge scoliosis treatment at Life Expressions Family Chiropractic, featuring Chiropractic BioPhysics® methods to spinal correction.
How Does CBP Treatment Work?
In order to address all of the tissues involved in spinal scoliosis, CBP emphasizes step-by-step structural rehabilitation, including:
An initial period of restorative chiropractic care to increase neurological function, reduce pain intensity, frequency and increase spinal range of motion
Mirror Image® exercises designed to stretch and strengthen shortened muscles that have weakened in areas where they've adapted to an abnormal posture
Mirror Image® adjustments, using techniques such as Tonal Techniques, Drop-Table and Activator Methods®
Mirror Image® Traction
Combining these methods has proven to be very successful in reducing or eliminating scoliosis!
We're Certified Providers of ScoliBrace™
Our practice provides our scoliosis population with the state-of-the-art ScoliBrace™.
This unique bracing method is three dimensional and is customized using 3D imaging software, which allows us to fit the unique needs and measurements of the patient. Combining full spine x-ray analysis with 3D images, a hard brace is produced that positions the body and spine in an over-corrected or mirror image position.  This technology provides a super-corrective effect when the brace is worn.  As an over-corrective brace, it performs much more effectively than traditional Boston Braces, which are stabilizing braces that typically cause muscle atrophy and minimal to no correction in the curve.
The ScoliBrace™ also opens and closes in the front, making it easy to wear and remove without assistance.
If you've been told that your child has scoliosis, we urge you to take action quickly! Call today for a convenient appointment at our Bismarck scoliosis center!  If you're concerned that your child may have scoliosis, use our online ScoliScreen™ to identify potential red flags indicating a problem.  This is an online evaluation to be used as a guideline only and is not diagnostic or a replacement for an official assessment by one of our scoliosis providers.
Bismarck Scoliosis Chiropractor | Mandan & Lincoln
Life Expressions Family Chiropractic | (701) 223-8413